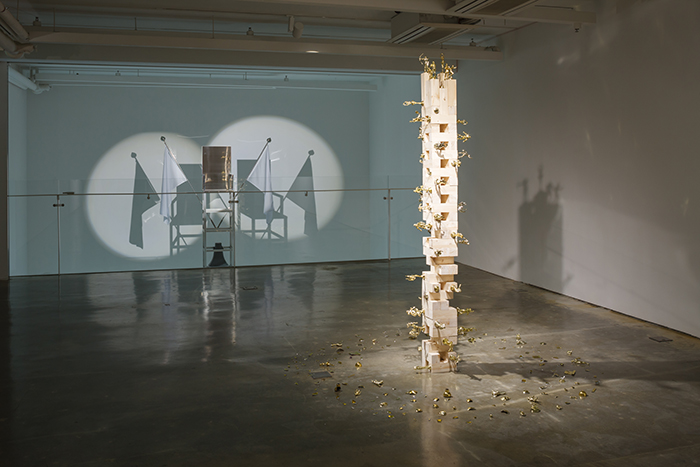 Now Here is Nowhere (2016)
Hye-Soo Park is an artist who continues to reveal her own artistic analysis on the modern man struggling to live the average life in a fiercely competitive society, the psychological issues derived from such life and the social landscape of our modern generation. Through various projects, Park continues to develop a visual analysis from speculating about the disappearing values of an individual's life under capitalism, and following up on people's thoughts about it. Her work "Project Dialogue-Archive"(2009) initiated the first of these interactive communications, was setup to induce conversation in which professionals of different fields and the general audience posted feedbacks in their own manners, resulting in a conversation scrapbook of randomly overheard and collected conversations of people. Through this project, Park divided the collected conversations and her own thoughts into five themes of dreams, botong*, love, money and art, and carried out surveys for each theme as five separate projects.
In this exhibition "Now Here Is Nowhere", the artist shows recent works which are elaborated from her earlier research project <Project Dialogue vol.2-the Definition of Botong> shown in the 13th SongEunArtAward in 2013. The concept 'botong', which has become as a very standard terminology, was considered as the reason for the loss of the themes such as 'dreams' and 'love' in modern times. Park focused on the dual nature of 'botong' as the universal value that must be aimed for and the subjective standard for self-justification at the same time. She visualized the concept of 'botong', based on her survey results since 2013 and the cooperative work with psychiatrist Yumi Sung, which invoked viewers to query their meaning of 'botong'.
Park divided SongEunArtSpace into three levels; <Reality - Bottom Life>, <Standardized Botong - Average Life> and <Distorted scenes of Botong> and placed text works, installations and audience participation on each corresponding floor comprising a total of 18 works.
1F-Reality Bottom Life
World's Best, 2016, Metal structure, stainless steel, flag, light, mirror, light, 600(w)x400(d)x820(h)cm
Of all the works presented, of special importance to Park are the following. In the mezzanine, the <World's Best> installation criticizes Korean's typical obsession over the first ranking. It is the artist's intention the work is viewed differently from each floor reflecting various stages to achieve first place. In the first room <Reality – Bottom Life>, <Gloomy Monday> is made up of stitched-together clippings from several Monday newspapers in the UK and Korea in which all negative words were punched out to produce an otherwise beautifully sounding manual music box.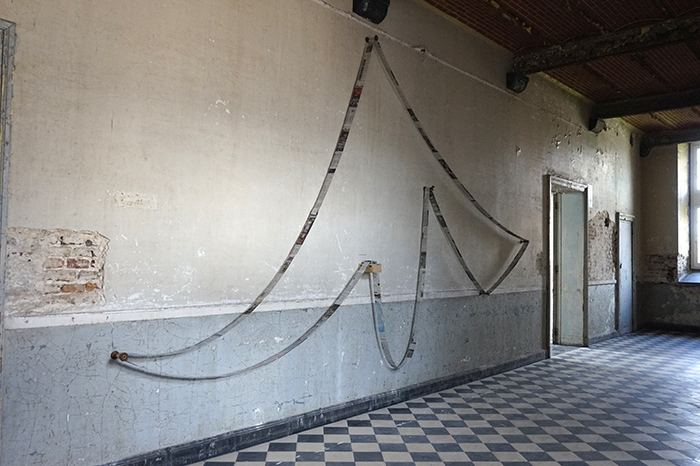 Gloomy Monday_2015, clipping from the Monday edition of The Guardian(UK:Nov~Dec 2015) and Chosun Daily Newspaper(KR:Aug~Sep 2015), melody box, loudspeaker,
variable dimensions_
Collection Van Laethem-Croux_ Hasselt, BE
Park punched out negative words and phrases from Monday newspapers of Korea and the UK for Gloomy Monday, and from newspapers of 15 countries in Negative Song thus, creating contrasting beautiful music for each music box. The more negative the article, the more complex and intricate the musical piece is played. For both works, each time the visitor plays the music box the music floods through the entire exhibit space by way of the loudspeakers on the third and fourth floors and the radio-shaped speaker of the gallery stairwell landing respectively.
The melody is constructed from the negative or sad words and sentences from the newspaper articles.
This work is the 2nd edition of the work 'Negative Song'(2015)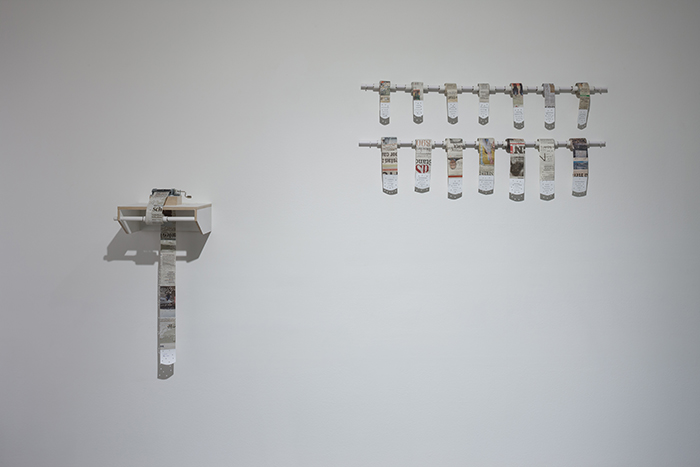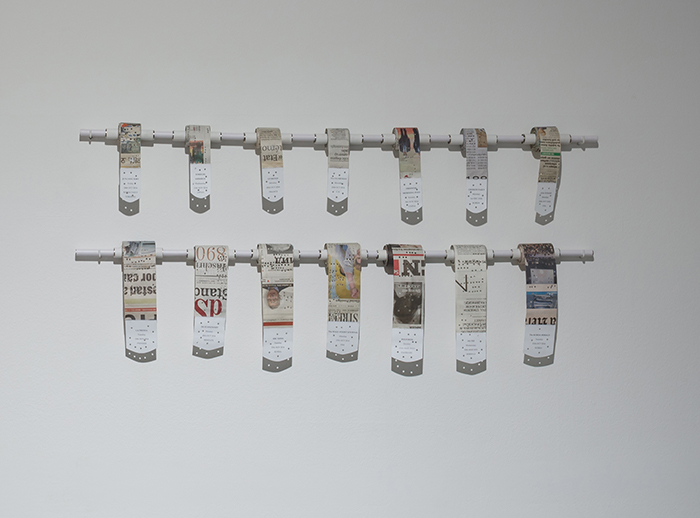 Negative Song
, 2015, Newspapers from 15 countries, melody box, variable dimensions, collection Hendricks-Mannaerts
2F-Standardized Botong-Average Life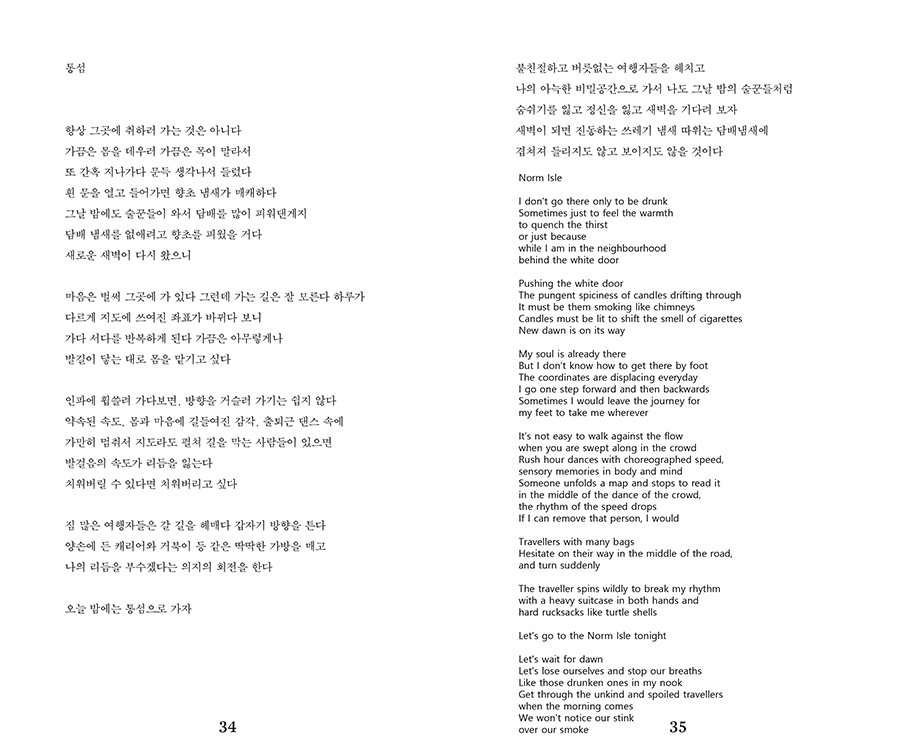 <Standardized Botong - Average Life> level, 10 abstract poems are presented which were written by a conceptual artist, Taey Iohe, based on the artist's results from the 'survey on Botong' from over 700 people since 2013_Poem by Taey Iohe
The artist takes the ambiguous nature of the standard called "average" and the standardized lives of modern day people trying to make it in a society where all things that lie outside conventional standards are cast out, and terms them together as the "Standardized Botong – Average Life". The first room of the third floor presents A0 to A8 (2016), a stainless steel mirror work that has differing standardized paper sizes hangs from the ceiling to display only partial reflections of viewers or the space itself. Accompanying this piece is an installation and object works Untitled (2016) and My Confession (2016) that consist of ten abstract poems by the conceptual writer Taey Iohe – who was asked to base his poems on the open-ended survey responses of the 700-participant "Test for the Average" of 2013 along with Park's own interpretations.
Park scatters excerpts of Iohe's poems in inconspicuous locations around the gallery and stair well in an attempt to have the entire gallery space read as one giant text form.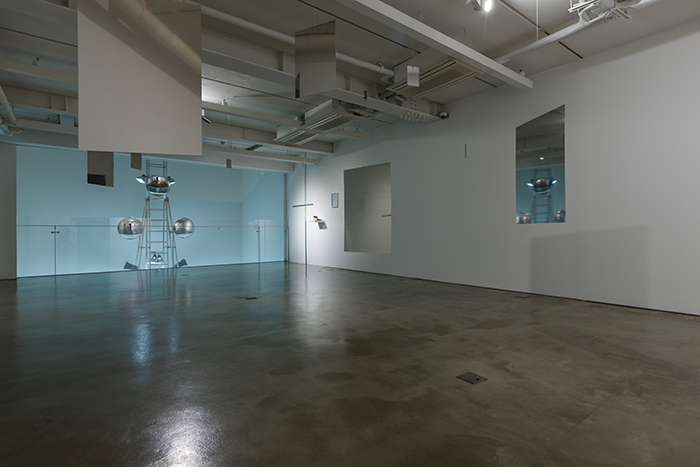 A0 to A8, 2016, stainless steel mirror, variable dimensions
My Confession, 2016, Mayfly, pencil text, variable dimensions
Untitled, 2016, Mixed media, variable dimensions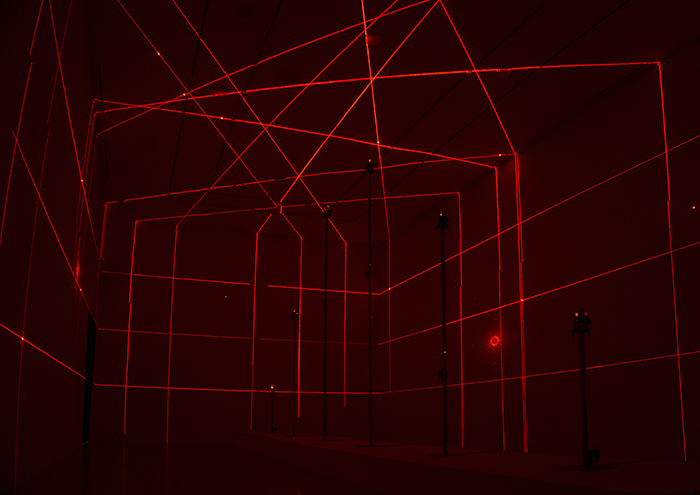 Veriable Average Beam,2016, Metal structure, laser level, dimensions (SOMA Museum. Sep. 2016)
In the opposite dark room, audiences can find Variable Average Beam (2016) where one can step on to a 10 meter long podium with a laser level to witness the vertical and horizontal baselines beamed on the wall become disrupted as a result, which is Park's way of questioning the "average," a standard that becomes the absolute by those who have chosen to live average lives.
3F-Distorted scenes of Botong
The "Distorted Scenes of Botong" laid out on the fourth floor brings into perspective the precarious people of a brutally competitive society who regard everyone who are not winners as failures and side-liners, using object d'art works.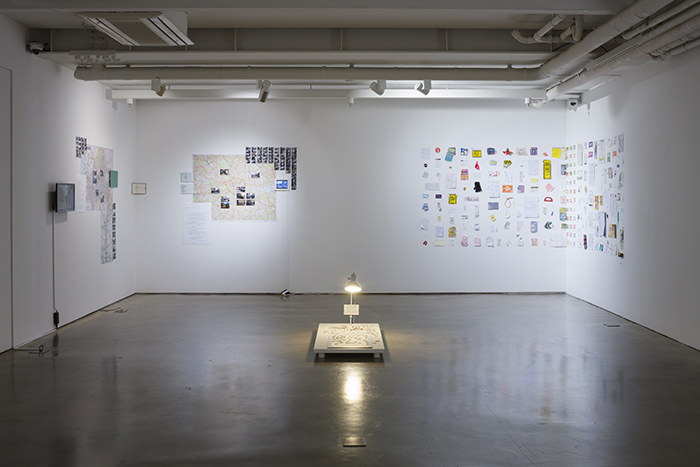 City Poem, 2016, Mixed media(found object from the streets in Korea, UK, photo, monitor, map, poem by Taey Iohe), variable dimensions
Walking in the exhibit space, audiences can see City Poem (2016) covering the entire right wall and corners with the comprising sub-works The Story inside the Pocket (2016), an array of worry-ridden objects of people gathered from the streets of Korea and the UK, and Following (2016), a project about roaming through the city by following random people going in front.
Collecting messages dropped in the street. " Walking in the footsteps of the person in front of me.
I think I feel the anxiety of the city."
City Poem is made up <the story inside pocket> and <following>. Park's making a film(video work) following in the footsteps of the person in front of me.
Series Goodbye to Love (since 2013)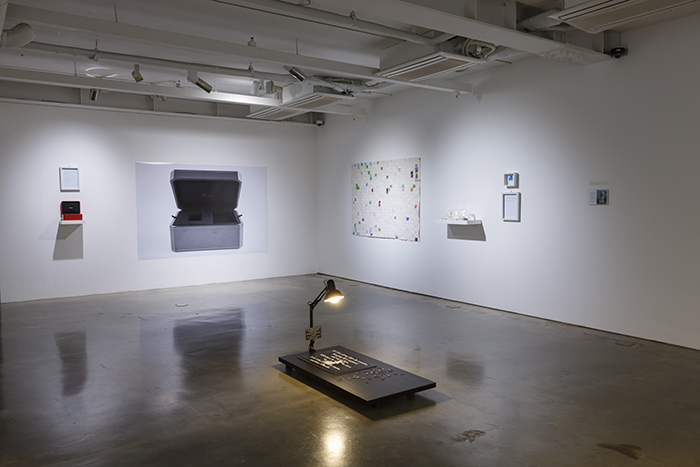 In the opposite corner Park showcases two representative pieces of the Project Archive Vol. 3 - Goodbye to Love, one that was started alongside Project Archive Vol. 3 - The Definition of Botong back in 2013. Part of Goodbye to Love is the Broken Heart Collection (2013), an assembly of things and stories left behind by past lovers that become part of Park's reinterpretation expressed through photographic and installation works. For this exhibition, Park took one thousand folded paper cranes she purchased from Auction (Korean eBay) from a woman selling her husband's past love token which he was never able to give (or dispose of) to his ex girlfriend, Park unfolded every single piece to re-piece them into a single large paper composition. She also introduces us to a story of a divorcee who has not been able to rid of an empty wedding watch box of her ex-husband. Both the box and a reinterpreted photograph taken by Hyung-Tae Lim are presented with the story.
Goodbye to Love (3rd edition) 2015, 1000 orgami cranes purchased from the auction (Korean ebay), 170x117cm_Art Bank Collectin
Question.

2015, text puzzle, table, light, 120x60cm(each) text from the poem 'Question','Quest' by Anna Wickham _
Collection Van Laethem-Croux_ Hasselt, BE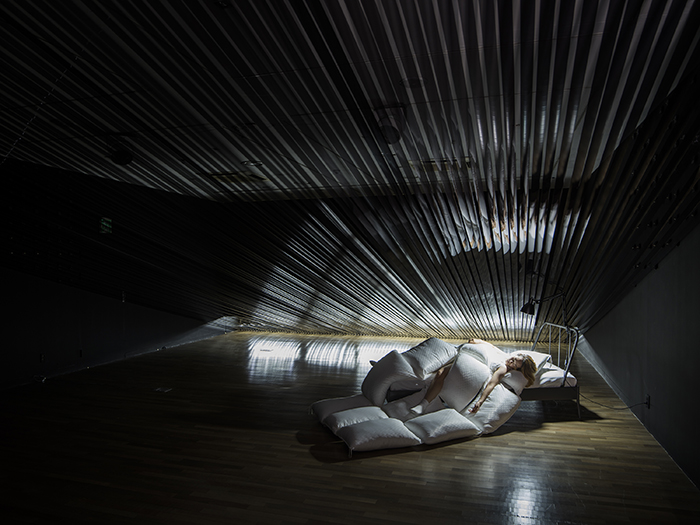 H.E.L.P, 2018, 500 clock move, pillow cover, pillow, light, photo, trumpet, variable dimensions
Performer: Jimin Son Music: Seongwhan Jung
* H.E.L.P. (2016~) installed in a sectioned off room uses Park's own suffering of insomnia to show a portrait of the people of today living with psychological ailments resulting from their incessant worries of the future.
| | | | |
| --- | --- | --- | --- |
| | | | |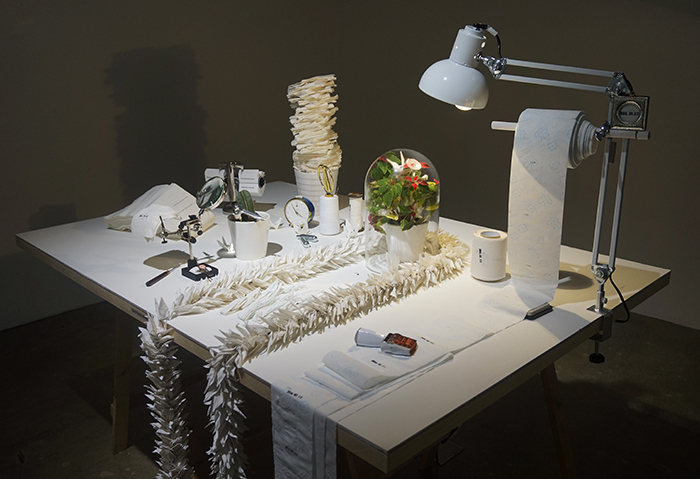 Moving to the last space one will find 1875 Days of Lonely Home (2015) that epitomizes the loneliness endured by the so-called ghireohghi (seagull) dads of Korea who sacrifice themselves and live apart from wife and children for years-on-end for the sake of their children's education abroad, along with Go, get it (2015) that speaks for of the "tiger moms" who adopt a strict and rigorous educational regime for their children to ensure their success.
1,875 days of lonely home_2016_mixed media, variable dimensions
Go, get it,
2015, whips, tennis ball, text(by. Taey Iohe), 70x20x90(h)cm
"
Am I an absolute necessity for my mum?"
World's Best Series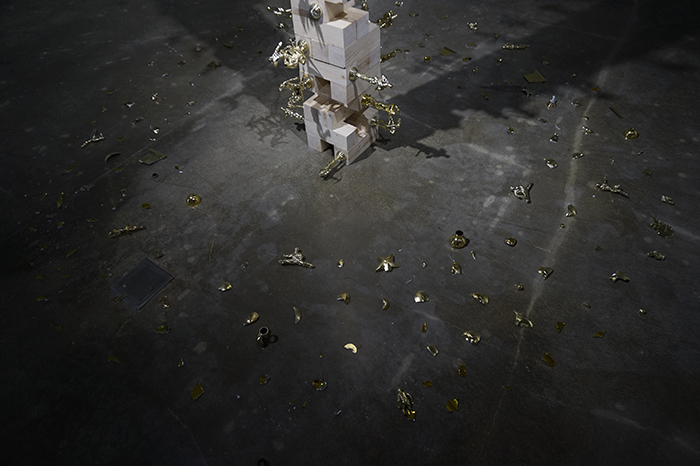 Game World's Best, 2016, wood block, trophy symbol, chess clock, monitor, variable dimensions. (player. Taehui, Kim) _MCAB Collection
At the very end visitors come to Game World's Best (2016) a tower that falls just short of the ceiling, and appears to be the end of a two-person Jenga game* that has gone a few rounds using wooden block pieces with various trophy symbols attached to them. This piece can be paired with World's Best installed in the Mezzanine area, both criticizing the characteristically Korean obsession of coming in first place born out of an excessively competitive ranking culture.
Hye-Soo Park: Now Here Is Nowhere captures "the average-made life" found in our everyday moments and reinterprets findings visually using an artist's perspective, forcing us to face and question the problems of modern society that we try so hard to ignore, and to reevaluate the lives of people today that is not normal but considered average.
*Botong
The Korean word 'botong' has over 20 possible meanings: normal, average, general, ordinary, common, nothing, same, stereotype, typical, habitual, custom, routine, etc. The intended meaning of 'botong' is usually derived from the situation and context where the word is used, but because of its varied meanings, ambiguity can pose to be a problem in terms of communication. The general Korean population understands 'botong' as either 'average' or 'normality', two meanings that have come to be the central concepts of the project <Project Dialogue - Archive>. Of the two meanings, the artist has mainly based the project on "the power of average," an extremely influential force in the Korean society.
| | | |
| --- | --- | --- |
| | | |
Publication: series of Nowhere (2015~2016): logo, poster, book, catalog design by, Dongyoung Lee
Hye-Soo Park (b. 1974) received a BFA and a MFA in sculpture from Ewha Womans university. Starting with her first solo exhibition "The Depth of Time" at Deockwon Gallery in 2000, she had 12 solo exhibitions and has since participated in important group exhibitions, including 'Sema 2010-Chasm in Image', SeMA, Seoul, Korea (2010), 'No.45-Kumho Young Artist', Kumho Museum, Seoul, Korea (2012), 'The Future is Now', MAXXI Museum, Rome, Italy (2014) and 'APMAP - Researcher's Way', Amore Museum, Yongin, Korea (2015). She was chosen for the 10th Kumho Young Artist (2010) and participated in Goyang National Art Studio Residency Program (2010), Jan Van Eyck Academie Residency Program (2014) and Gasworks Residency (2015) in London, U
Review> https://artgrind.wordpress.com/2016/04/08/hye-soo-park-at-songeun-art-space/